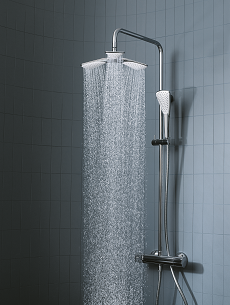 Founded in 1926 by Franz Scheffer in Menden, Sauerland, the Kludi group of companies today employs over 1,030 people and operates across the world. From the outset they have been committed to the development and manufacture of quality fittings.
Today their products are manufactured in five locations across Europe. Alongside two plants in Germany – plus the company headquarters in Menden – they have their own manufacturing plants in Austria, Hungary and Poland. The same manufacturing standards apply in all their plants and thus ensure the consistent high quality of all components and finished products.
KLUDI design is aimed at the lifestyles of interior architecture. And at the varied tastes of their customers. They develop products that satisfy the demand for timeless bathroom architecture. From purism to nostalgia, from classical to Mediterranean, from the simple to the unusual – and always with a love of detail.
KLUDI as a brand manufacturer offers their customers products and services of high quality. A KLUDI product passes through the hands of many employees. Together they create value for them and their customers – products that are good enough to be bought and sold under the KLUDI brand name.