TOTO LTD. was founded in 1917 as a manufacturer of ceramic sanitary equipment and plumbing hardware. TOTO has grown to become the industry leader and premier supplier of plumbing-related products in Japan and is posed to move forward in the 21st century with an expanded corporate vision.
Among the corporate philosophies adopted by the founders, "Quality and Reliability" is one of the basic company missions. TOTO is dedicated to provide products and services that are designed to improve the cleanliness, comfort and convenience of residential and nonresidential spaces. For more than 90 years, TOTO's top-quality and reliable products have not only enhanced people's quality of life but also won itself the highest customer satisfaction and appreciation.
< 2012 – 2013 New Collection >
Neorest LE series - toilet, washbasin, bathtub and faucet
| | |
| --- | --- |
| Awards | – red dot design award 2010 (Bathtub) |
| | – red dot design award 2009 (Toilet and washbasin) |
| | – Design Plus Awards 2009 (Toilet) |
| Material | – LuministTM |
| Design | – Wall-hung toilet with LuministTM push plate and intellectual functions |
| | – LuministTM washbasin with LED lighting effect and knob control, which is located at the front right hand corner of the unit |
| | – LuministTM bathtub with LED lighting effect , water supply time interval setting and lock and unlock of the buttons |
| | – The elegant and super-slim spout gives a waterfall-like configuration of the water flow |
LE MUSE series – toilet, washbasin and faucet
Designer – Italian architect Francesco Lucchese
Inspiration – the muses from Greek mythology and TOTO hopes to bring the atmosphere of joy and pleasure to end user through this artistic design
Design – Particular attention to the relationship between objects, space and humans, the products act as the bridge to make everything integrated. It is based on curve and elliptical shape that completely avoids the use of sharp edges. With the sunken design for the handle of faucet, it is best fit to the shape of human fingers, and therefore users enjoy touching it comfortably and cheerfully. With the 3L or 4.5L dual flush mode of toilet flushing volume, it is water saving and eco-friendly.
TOTO LTD. 於一九一七年成立,生產各式各樣陶瓷浴室設備。時至今日,TOTO 已成為日本享譽成名的優質衛浴設備生產商,在業內佔領先的市場地位,憑藉其高瞻遠矚的使命,矢志在二十一世紀繼續向前邁進。 在創辦人提倡的企業精神中,「品質和可靠」是該集團其中一個最基本使命,致力提供整潔、舒適和方便的產品及服務,優化生活空間。經過九十多年的努力,TOTO透過其高質素的產品,不但提升了人們的生活質素,並贏得客戶高度嘉許。
「2012 最新產品」
Neorest LE系列 - 座廁,臉盆,浴缸及龍頭
| | |
| --- | --- |
| 獎項 | – red dot 國際設計大獎2010 (浴缸) |
| | – red dot 國際設計大獎2009 (座廁及臉盆) |
| | – Design Plus Awards 2009大獎(座廁) |
| 物料 | – LuministTM |
| 設計 | – 掛牆座廁配 LuministTM 按鍵沖水面板及一系列智能功能 |
| | – LuministTM 臉盆配 LED 燈效及旋轉按鈕安裝於臉盆的右邊角落 |
| | – LuministTM 浴缸配 LED 燈效,無間斷注水模式及龍頭控制面板上鎖功能 |
| | – 高貴脫俗、線條幽美的龍頭以瀑布形式出水 |
LE MUSE 系列 – 座廁,臉盆及龍頭
設計師 – 意大利建築師 Francesco Lucchese
設計概念 – 來自希臘愛琴海神話中的繆斯女神, 而 TOTO 希望藉著充滿藝術氣息的設計,為各用家使用產品時感受到歡欣愉悅的氣氛。
設計 – 特別注重產品﹑空間與用家三者的融和,以產品作為用家與空間的橋樑,令三者融為一體。產品均以曲線,橢圓為設計重點,當中沒有任何堎角,確保用家在使用時只有圓潤與順滑的感受。而設計上,龍頭把手上特別有一個凹陷位置,切合用家手指形狀,令用家在使用時有舒適愉快的享受。座廁沖水量為3公升/4.5公升雙沖模式,盡力節省資源,為環保出一分力。
Neorest LE series 系列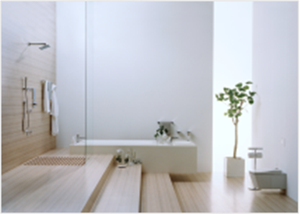 LE MUSE series 系列